Links to Episode PSAs
---

One question involving the animated STAR TREK series was whether they ever were broadcast along with a Public Service Announcement (PSA). Several animated Saturday morning series beginning in the 1970's had a 30-second "message" aimed at teaching the children viewers a lesson, like staying away from downed power lines and not being a bully. Several people have written in with fuzzy memories of Public Service Announcements featuring the animated STAR TREK cast. They wanted to know if they were ever produced and if they did exist why weren't they included on the recent DVD release.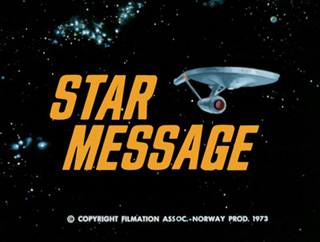 It turns out that there was at least one authentic Animated STAR TREK Public Service Announcement. It was created in 1975 or 1976 for the "Keep America Beautiful" campaign - 'Advertising Contributed for the Public Good.' A copy of this video in the form of a 16mm print surfaced recently and it is shown below. The television spot was created by Filmation Associates in their facility located on Sherman Way, just outside Hollywood and features the voices of STAR TREK actors William Shatner, Leonard Nimoy and George Takei.

PSAs made their debut in conjunction with Filmation's Hardy Boys series in 1969. They didn't become a regular epilogue element until 1972 as part of Filmation's Fat Albert and the Cosby Kids series. Filmation was the first studio to add a moral in the form of an epilogue at the end of animated television episodes. In an interview for Agent DVD Online, Filmation co-founder Lou Scheimer said, "The PSAs were always about the moral in the show, literally to help the child with the concept of the lesson. The idea started with Bill Cosby doing the live-action segments on Fat Albert. It was very effective. We had these superhero shows and at the end the hero would talk about what was in the episode. It created really good will. Mothers were writing in. It was very successful for the kid audience."

Apparently, no episode epilogue PSA's were ever made or televised for the animated STAR TREK series because the show did not feature physical violence which might have required a special moral to provide balance as the much-maligned superhero shows had.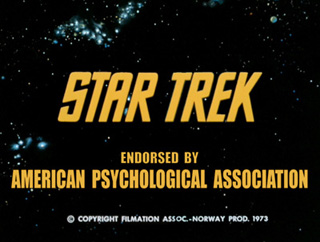 So there never were any Animated STAR TREK epilogue PSAs. Just for fun, however, I decided to create 30-second PSAs with the type of lessons that might be learned from each of the twenty-two Animated STAR TREK episodes. I later created a PSA for my new Animated STAR TREK episode "And Let the Heavens Fall." These new PSAs were written seriously just like the ones that were seen on Saturday mornings in the 1970's and 1980's, but when viewed with today's sensibilities, they will probably seem quaint and perhaps humorous. They have all been uploaded to youTube and they can be watched below. Enjoy...
I've also created a PSA from the Klingon point-of-view: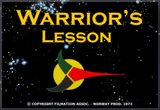 ---
PSA epilogue for "Beyond the Farthest Star"
-Don't Let Strangers Into Your House
---
PSA epilogue for "Yesteryear"
- Don't Sneak Out of the House at Night
---
PSA epilogue for "One of Our Planets Is Missing"
- Be Careful Of What You Put in Your Mouth
---
PSA epilogue for "The Lorelei Signal"
- Equality of Woman
---
PSA epilogue for "More Tribbles, More Troubles"
- Be Careful of Wild Animals
---
PSA epilogue for "The Survivor"
- Be Yourself/Don't Lie
---
PSA epilogue for "The Infinite Vulcan"
- Don't Take Medicine from Strangers
---
PSA epilogue for "The Magicks of Megas-tu"
- Don't Tamper With What You Don't Understand
---
PSA epilogue for "Once Upon A Planet"
- Don't Use Violence
---
PSA epilogue for "Mudd's Passion"
- Don't Take Drugs
---
PSA epilogue for "The Terratin Incident"
- Don't Ambush People
---
PSA epilogue for "The Time Trap"
- Cooperation
---
PSA epilogue for "The Ambergris Element"
- Swimming Safety
---
PSA epilogue for "The Slaver Weapon"
- Don't Play With Guns
---
PSA epilogue for "The Eye of the Beholder"
- Don't Trespass
---
PSA epilogue for "The Jihad"
- Don't Fight, Talk Over Your Problems
---
PSA epilogue for "The Pirates of Orion"
- Don't Steal
---
PSA epilogue for "Bem"
- Follow the Rules/Don't Get Into Trouble
---
PSA epilogue for "The Practical Joker"
- Don't Play Practical Jokes on Others
---
PSA epilogue for "Albatross"
- Respect Authority
---
PSA epilogue for "How Sharper Than A Serpent's Tooth"
- Learn About Other Cultures
---
PSA epilogue for "The Counter-Clock Incident"
- Wisdom and Value of Senior Citizens
---
PSA epilogue for "And Let the Heavens Fall"
- Don't Boss People Around
---
PSA epilogue for "Ptolemy Wept"
- Stay In School and Study Hard
---
PSA epilogue for "The Quintain"
- Take Training Seriously