Price Information.
The STAR TREK Story Records are readily available via online auctions such as Ebay, and since they exist in such abundance the going prices for most 45 RPM records are around $3 to $9. Their worth is surprising low despite the fact that they are around 25 years old. The 45 RPM STAR TREK Story Records were produced in such quantities that many, many exist in perfect condition still in shrink-wrap!
The 33-1/3 RPM LP STAR TREK Story Records are less abundant and are thus more expensive. With the exception of Record #22 and Record #23, most LP's can be found through online auctions for around $12-$25. The LP's produced prior to 1979 are more expensive than the ones with photo covers which were produced in great abundance in 1979 to coincide with the release of the first STAR TREK movie.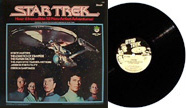 Record #22 (shown above) is a 12-inch record with 6 stories on it produced in 1979 or 1980. Record #23 is a very rare 12-inch record with 5 stories on it produced in 1979. Both are worth around $30 or $40 dollars but may still sell for less by auctioners unaware of their value.
About Peter Pan Industries.

In the years just after the Second World War, a company was formed in New Jersey called Synthetic Plastics Company. Among various other products made at the manufacturing facility on Kormorn Street in Newark starting in 1949, were phonograph records including several aimed at children.
The 1940's

These first offerings bore the label of Peter Pan Records and were 78 RPM records containing perennial children's song favorites such as Old MacDonald's Farm, Little Red Riding Hood, Goldilocks and the Three Bears, and the Nine Billy Goats Gruff. These recordings often featured a vocal group called the Caroleers. Other singers appeared also and were sometimes accompanied by the Peter Pan Orchestra.
The 1950's and 1960's

These brightly-colored plastic records featuring children's songs continued to be produced and sold into the 1950's and early 1960's. In the 1960's, fewer new titles were produced as the company turned to concentrate on their plastic products such as their other record label Promenade Records.
The 1970's and the dawn of Power Records

As the 1970's began, the Peter Pan Industries division was formed from parent company Synthetic Plastics, and the new wing started producing children's recordings that were spoken-word stories. These included Peter and the Wolf (1971) and a record with two stories derived from the Flintstones television series (1972). The latter was a tie-in to popular characters of the time would only be the first in a long, successful series of story records based on television shows, comics and movies. The number of media tie-in titles would ultimately number in the dozens, including such subjects as Superman, Batman, and Spiderman of the comics, Star Trek, Six Million Dollar Man, and Kojak from television, and four of the Planet of the Apes movies. Several of the STAR TREK records were produced by Arthur Korb.
The late 1970's and the 1980's

The Power Records label was retired in 1977 and all subsequent records were produced under the Peter Pan Records name, including the several 1979 STAR TREK story records bearing photos from STAR TREK: The Motion Picture