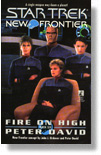 "Fire on High"
written by Peter David.
Published in April 1998 by Pocket Books.
ISBN: 0-671-02037-4, 272 pages
cover by Dru Blair
Synopsis:


On the planet Armistan a nameless woman sits. She sits high upon a mountain, cradling a weapon unlike anything that any Armistan has ever seen. She rocks back and forth on her haunches, singing softly to herself. The weapon is her only company on the planet, since everyone else is little piles of ash. A weapon that could destroy life on one planet could do so again. Lieutenant Robin Lefler's mother died in a shuttle explosion ten years ago. So is the woman being held prisoner in Thallonian space really her? If it is, what is her connection to the mysterious woman holding a weapon that could doom entire worlds? With the lives of billions at stake, Robin Lefler, Captain Calhoun and the crew of the U.S.S. Excalibur must find the answers before time runs out for them and for the struggling remnants of the once-great Thallonian Empire.
(More information to come.)
Text Excerpt from the book
This book is available from Amazon.com
---